An Introduction to Palynology
What Palynology Is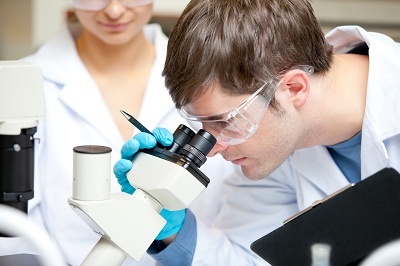 The microscopic organic materials studied in palynology are properly referred to as palynomorphs. Palynomorphs include spores, pollens, dinoflagellates, and microfossils. A palynomorph is defined as, "an organic walled microfossil 5 to 500 micrometers in size." Palynology is the branch of study of these micro materials. Palynology is used in other scientific fields such as petroleum geology, archeology, geology, paleontology, biostratigraphy, forensics, and environmental sciences.
History of Palynology
Palynology evolved out of the naturalist movement of the 17th century. Nehemiah Grew, the "father of plant anatomy," was the first person to theorize that pollen was the means of reproduction in plants. Fortuitously, the 17th century also saw the invention of the microscope, allowing for the study of pollen, spores, and other micro organic materials.
The term palynology comes from the Greek palynein, meaning "to sprinkle." It was not officially coined until the end of World War II. A palynology laboratory specializes in the analysis of palynomorphs.
Pollen Analysis
The study of pollens and spores is referred to as pollen analysis. Palynology includes pollen analysis, but is a much wider field of study as it includes marine planktons, microfossils, and other microscopic remains.
Pollen Season
Pollen is particularly useful due to its profuseness. Because a vast amount is produced each season, and spread over a wide area, there is generally a significant quantity preserved from any given location. Pollens and spores are much more enduring than the plants that produce them, and therefore, give a more accurate record of which plants were present in an area at a given time.
Pollens first appeared in the fossil record about 300 million years ago. Such prehistoric palynomorphs have been invaluable in the study of earth history and plant evolution. Palynology lab services are an invaluable resource for scientists needing to identify the age and type of microfossils.
Anaerobic Environments
Anaerobic, or oxygen-deprived, environments are the best place to find large quantities of well-preserved palynomorphs. Dried up lakes, ponds, bogs, riverbeds, and seabeds, are preferred sources for collecting surviving examples. The sediment and lack of oxygen in these environments are ideal for preservation.
Evolution of Landscapes
Palynology has been critical in the study of how landscapes change over time. It helps in the understanding of natural changes in an environment, such as wetlands drying into fields, or in fields reverting to woodlands.
A palynology laboratory can accurately prepare and analyze samples from any geographical area or time period.