Benefits of Using Doubly Polished Thin Sections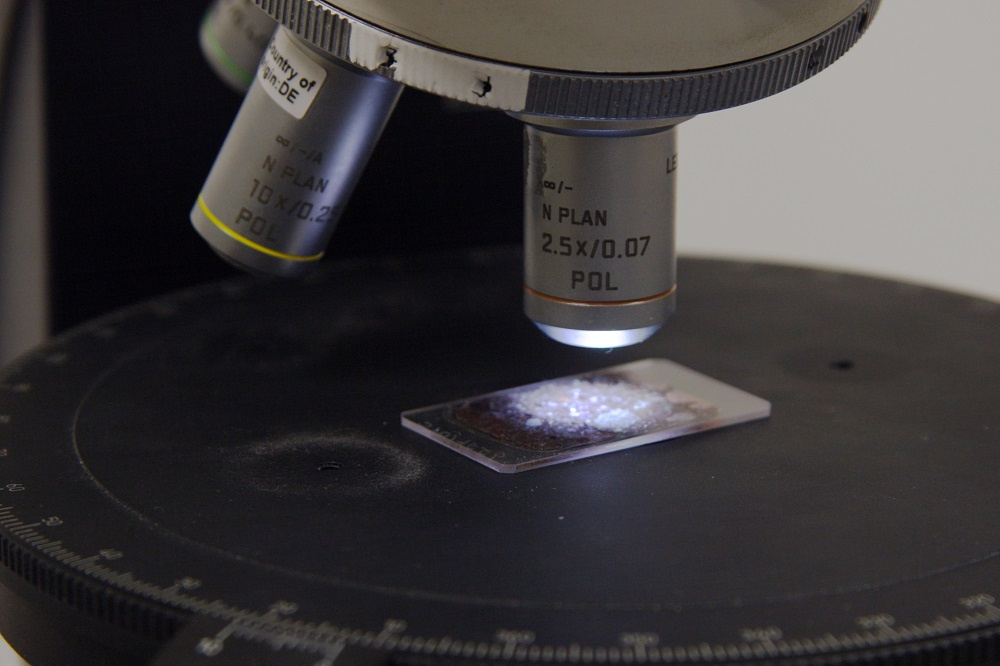 High-quality, polished thin samples of rocks and minerals are an important tool for petrographic studies. Standard thin sections are ground to an approximately 30-micrometer thickness, mounted to a 27-by-46-millimeter glass slide and then fitted with a coverslip. Polished thin sections are standard thin sections that are polished using progressively finer polishing compounds to create a highly reflective, scratch-free surface. Polished thin sections can be used on a slide without a coverslip, which allows direct access to the sample surface. Polished thin sections are ideal for a number of petrographic applications, including reflected-light petrography and electron microprobe analysis.
For even sharper images and greater detail, samples can be made into doubly polished thin sections. These samples are highly polished on both sides, which creates two significant advantages. First, it's possible to vary the thickness of the sample. Doubly polished thin sections provide remarkably clear images under microscopes and are advantageous for a variety of different petrographic studies and analyses.

Fluid Inclusion Studies
Doubly polished thin section preparations were originally developed to study and observe fluid inclusions in rocks and minerals. The polished surfaces make is possible to examine internal structures in great detail, including the microscopic bubbles that were trapped inside the mineral's grains during the mineral's formation. These tiny bubbles contain liquid that was condensed after vapor formed the bubble. Doubly polished thin sections and special microscopes are used the heat the sections, convert the liquid back to vapor, and observe the changes. This gives researchers a great deal of information about the mineral, including an idea of the mineral's formation temperature.

Microfossil Studies
Doubly polished thin sections offer three major advantages to the study of microfossils in volcanic rock. First is the ability to vary the thickness of the sample to fit the size of the features to be studied. Microfossils are bigger than the standard thin section size of approximately 30 micrometers; the thicker the thin section, the greater the chance of observing microfossils. Second, the thicker sample size and the double polishing make it possible to observe microfossils from both sides and create a 3-D picture of the fossil. Surface structures and morphologies are easier to understand when viewed from both sides. Third, doubly polished thin sections allow fossil researchers to include fluid inclusions in their analysis. Fluid inclusions in microfossils shed valuable information on the environment and physical and chemical conditions that prevailed during the formation of the fossil.
National Petrographic Service, Inc., is an industry leader in the production of high-quality doubly polished thin sections. Our skilled technicians can prepare thin sections of any type of rock or mineral, including concrete, aggregate, meteorite, and ceramic shards. Our slides can be prepared to your precise specifications. Discover the difference a doubly polished thin section can make to your research today.